I surf a lot of blogs while I am nursing Carli and I stumbled across this blog a while ago. My heart is aching for this family tonite. I am not usually one that asks for prayers - but tonite, I am asking that you send up a prayer for this family and this little girl. Pray for a miracle, and pray for peace and God's will to be done.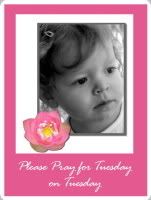 My deepest fears were confirmed. Tomorrow we take our precious daughter home. Her cancer doubled in size in less than a week proving once and for all that it is horribly aggressive and no longer chemo sensitive. We have no idea how to do this but we have no doubt we will be cared for every step of the way. This is all I have in me. Please pray for peace for our children, our parents and our siblings. Tuesday, full of grace, you are our so very loved.
Really - I thought I would write more - but I am speechless because I cannot imagine the emotions this family is experiencing. I will hold my
Carli
close
tonite
and thank God more
fervently
for her and I will send up a heartfelt prayer for Tuesday and her parents and siblings.
Thank you...